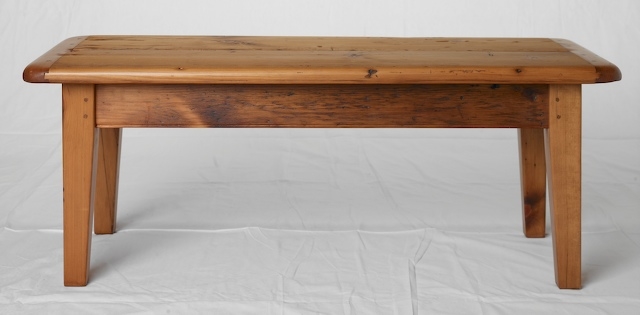 Pine Coffee Table
This coffee table was handmade using traditional methods. The legs and skirts are mortise & tenoned together, with hand carved wooden pegs to hold them together. The table-top is hand planed and has bread-board ends and a wood spline between the boards which keeps them together. The wood for this coffee table came from the hay loft of a 155 year old barn and the top retains the old character, such as pitchfork marks. Finished in a hand rubbed oil & varnish, with a bees wax top coat.
H. 18½", W. 49", D. 21½"
$850.00
Press-back Nursing Rocking Chair
This great rocker came from the Harvey Stewart Farm in Morriston, Ontario. Sadly the farm is now boarded up and abandoned looking. This chair has been fully restored and finished in a hand rubbed oil and varnish, with a bees wax final coat.
$210.00
For Sale